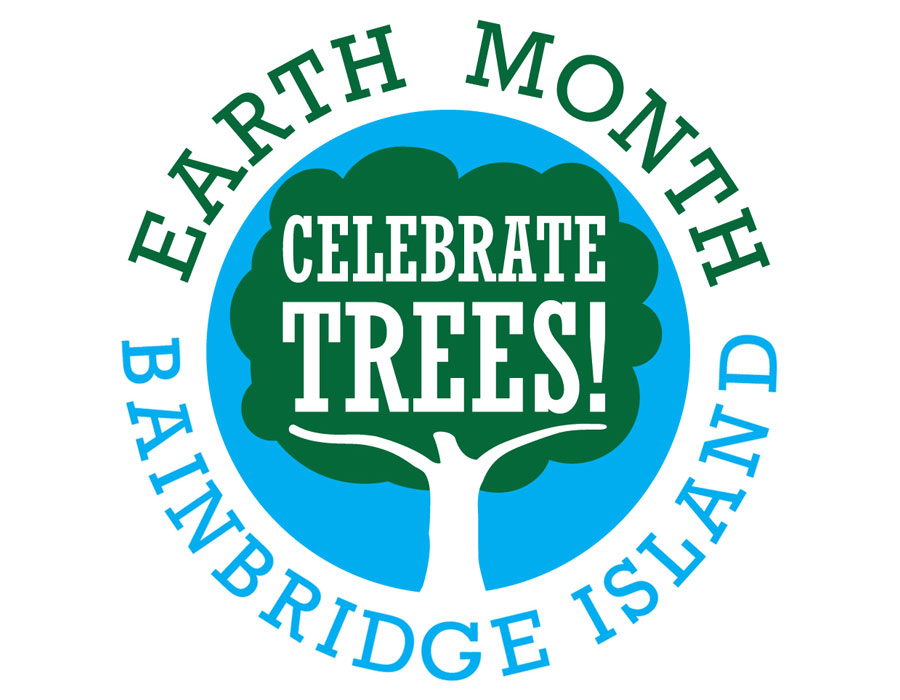 The goal of Celebrate Trees! Earth Month Bainbridge Island is to raise awareness and encourage involvement and action for Arbor Day and Earth Day, and to inspire all to protect our trees, our environment, and our planet. Check back for an evolving list of 2021 Earth Month events and activities.
Download this Earth Month calendar for daily learning and activities
that will help you become more environmentally aware and impactful.
As the renowned Canadian scientist David Suzuki reminds us, "Local action is beneficial even if it doesn't become a worldwide movement. It can help communities respond to specific issues, such as adapting to regional effects of climate change. It can help protect threatened plants and animals and  their habitats. It can [even] inspire municipal governments to implement important policies, pushing governments higher up to act."
Upcoming Events
Help our western red cedar – Watch the presentation by Joey Hulbert at the Bainbridge Island Watershed Council meeting from April 1. Hulbert, of Forest Health Watch, spoke about a citizen science program to monitor Western Red Cedar mortality and what part we can play.
Trashion Show Call for Artists – The deadline for submission of sketch proposals is Friday, April 2. See bitrashion.org for details.
Celebrate beavers! – Author Ben Goldfarb, winner of the 2019 PEN/E.O. Wilson Literary Science Writing Award for Eager: The Surprising, Secret Life of Beavers and Why They Matter, will speak about these amazing semi-aquatic rodents on the eve of International Beaver Day, Tuesday, April 6, at 6:30pm in a free online presentation. Go to the Stillwaters site for more information and the Zoom link.
Explore Bainbridge – "Explore Bainbridge" invites families to visit favorite destinations and historic locations around the island through the lens of STEM (science, technology, engineering, and math). These activities, developed by KiDiMu, are geared toward 3-6 year olds. Purchase the activity book (100% of proceeds go back to KiDiMu), then visit any of the 10 island locations while practicing early-learning skills with your youngster. Activity book pick up begins Friday, April 2, 1pm-4pm; Saturday, April, 3, 10am-1pm; and anytime April 5-9, 10am-4pm.
Car seat recycling – From April 5-19, Target is collecting used car seats, including infant seats, convertible seats, car seat bases, harness or booster car seats and car seats that are expired or damaged. Materials from the old car seats will be recycled by Target's partner, Waste Management. A bonus is a 20% coupon toward a new car seat or select baby gear. More info can be found here.
Recycling right – Help the powers-that-be improve messaging on what and how to recycle by taking this short survey. It will be open until April 22 (Earth Day!).
Beloved Historic Trees of Bainbridge – Instead of his usual annual Bainbridge Island Tree Tour, famed arborist Olaf Ribeiro will highlight three favorite BI trees and delve deeper into his background in a joint BI Senior Center/BI Historical Museum virtual event on Monday, April 12, at 11:30-12:30pm. Details and meeting link are here.
Buy and plant a discounted tree – Support local and plant a tree for Washington State Arbor Day! Many thanks to Bay Hay & Feed for supporting Earth Month by offering 15% off trees (must request the "Arbor Day discount" at the register) on Wednesday, April 14 only.
Sock recycling – Bay Hay and Feed is hosting a pilot run by Smartwool. Between April 15-May 8, they will take in any type and brand of sock — single or pairs. Just make sure they are clean!  Smartwool will turn them into dog beds. If your socks don't have holes and are still wearable, it might be better to donate them for reuse.
Plastic presentation – League of Women Voters, in collaboration with Olympic College, presents "Plastic: The Big Picture, Local Insights, and What You Can Do," Wednesday, April 21, 5-7 pm. More information here.
Earth Day weed pull – Meet across from the Senior Center on Thursday, April 22 at 11:00 am. Weed Warriors founder Jeannette Franks will lead a contingent to remove non-native invasive species to help our trees and parks thrive. Masks and social distancing in effect. Bring garden gloves and tools, but extras will be available. Garden spades, pruners, narrow shovels and digging forks are especially helpful. Dress for rain and shine. Recent research indicates that mature forests, such as we have on Bainbridge, are powerful carbon sequesters, mitigating climate change. Take action against global warming by fostering healthy native trees and plants!
"Kiss the Ground" movie discussion – "Kiss the Ground" reveals that, by regenerating the world's soils, we can completely and rapidly stabilize Earth's climate, restore lost ecosystems and create abundant food supplies. Watch the movie at your leisure on Netflix or starting April 10th by registering here. Then on April 22, 5-6pm, join a community discussion with Nate Stacey of the WSU Extension Office, local farmers and farm advocates division, at this Zoom link.
Free invasive weed disposal – Bring your weeds to the Bainbridge Disposal Transfer Station on one of two Sundays, April 18 & 25, 10am-4pm. The BI Land Trust will cover the cost of disposal. Invasive plant targets are Scotch broom, English holly, English ivy, Himalayan blackberry, tansy ragwort, English laurel and English hawthorn.  They also include the "Sneaky Seven" in this brochure produced by Eli Glosser. Please do not mix in non-invasive yard waste.  More info can be found here.
Food waste presentation–  On Tuesday, April 27, 5-6:30pm, The Climate & Energy Forum presents "The Carbon Footprint of Food Waste." Domenic Calabro from the U.S. EPA Region 10 will speak from the national perspective, Heather Trim of Zero Waste Washington will tout next year's Washington state food waste legislation; and Michael Bryan-Brown of the local compost solutions company Green Mountain Technologies will handle waste collection and disposal alternatives. Details and the Zoom link are here.
Tire & scrap metal recycling – Kitsap Solid Waste is hosting this "Wheels & Steel" free household recycling event from 9am-1pm, April 30 & May 1. Bring up to 10 tires and non-appliance scrap metal to the Thunderbird Arena on the Kitsap County fairgrounds. For complete details, go here.
Anytime Activities
Earth Month Bingo – Easy actions you can take that add up when you make them a habit. Play by yourself or as a family. Print your own board here.
Passport to Parks & Trails – Between April 1-June 30, visit each of the twenty-eight Bainbridge Island Metro Park & Recreation District locations in your passport booklet to collect site-specific stamps and explore Bainbridge Island in the process. Stamps can be found at Park District kiosks or on trailhead signage in locations without kiosks. Collect all twenty-eight stamps before the end of June and receive a celebratory Park District pin to show off your achievement! Visit www.biparks.org/special-events for more information and to download your booklet.
Tree tour – Take a self-guided tour of remarkable tree specimens mostly in downtown Winslow. Go to the Bainbridge Island Tree Tour page to find out how to locate the trees and learn about them.
At-home science activities for the outdoors – IslandWood has created a number of activities, songs, and exercises adaptable to any age to help inspire students to explore their own neighborhoods and communities while strengthening observation and investigation skills and deepening ecological knowledge. Check them out here.
Weed pulls – Weed Warriors founder Jeannette Franks will happily arrange a private 'bubble buddies' weed pull for families or small groups of five or less. Email her or call her at 206-755-8461.
Invasive species reporting – Get the invasives species app to help alert state officials to the next sighting of the murder hornet sighting or sprouting of daphne laureola and build their database of invasive flora and fauna.
Citizen Science: Carnivores! – Contribute your sightings to the Woodland Park Zoo's urban carnivore spotter project, which aims to support communities in facilitating solutions to achieve positive coexistence with carnivores.
Global Amphibian Bioblitz – Seen a salamander lately? How about a spring peeper? Here's another citizen science opportunity to record your sightings by using iNaturalist. Adding your observations will help researchers, conservationists and concerned global citizens to share information and move forward actions that conserve these incredible creatures for everyone.
Litter pick-up – A year-round activity! If you would like to borrow grabbers for an indeterminate amount of time, please email Zero Waste. If you want to get serious about regular pick-ups, consider joining the County's Adopt-a-Road program.
Earth Day Network – Check out this page for how to take civic, community and individual actions. The Earth Day Network makes it easier for students who want to advocate for change (e.g., getting a pollinator garden, setting up a compost system, making sports sustainable) by offering advocacy packets.
Earth Month Planning Partners
Sustainable Bainbridge would like to thank the following organizations for their support and dedication in planning Earth Month 2021. Learn more about who they are and how you can help through the links below.
Sustainable Bainbridge Partner Programs