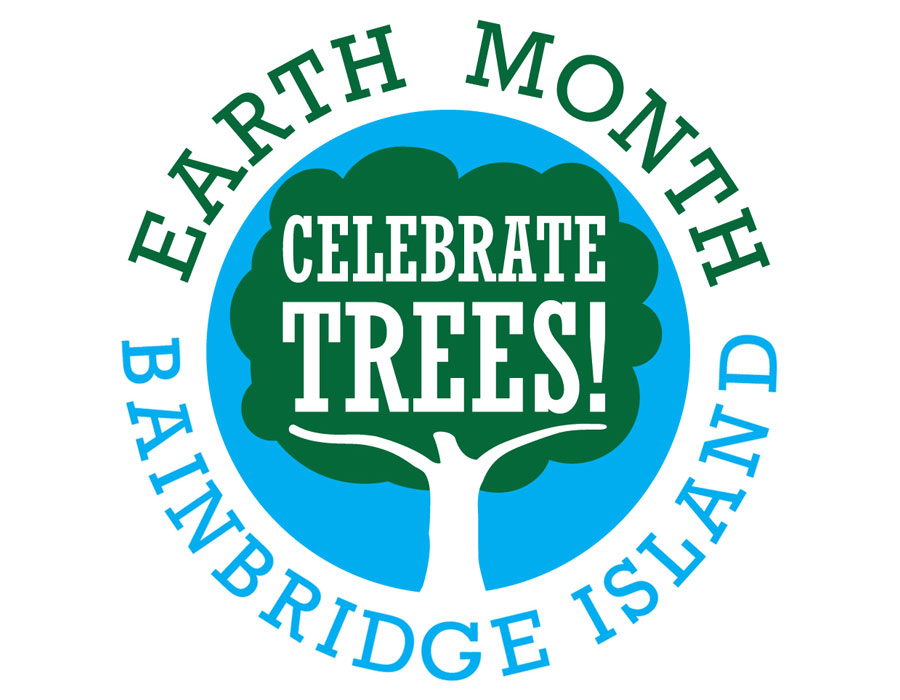 Unfortunately due to the COVID-19 pandemic, all group gatherings, meetings, and programs are cancelled for Earth Month 2020.  We are sharing ideas, however, for ways you can still stay involved through reading lists, online programs, Earth Month BINGO!, an April calendar of daily ideas and suggestions, and a virtual Earth Day, hosted by our partner the Earth Day Network.
Celebrate Trees! Earth Month Bainbridge Island 2020
The goal of Celebrate Trees! Earth Month Bainbridge Island is to raise awareness and encourage involvement and action for Arbor Day and Earth Day, and to inspire all to protect our trees, our environment, and our planet. Earth Month includes events and activities throughout April and offers something for everyone, children and adults of all abilities.  Events are listed for the active weed puller, the quiet reader, the inquisitive tree hugger, the reflective Earth lover, the conscientious gardener, the Earth cookie-eating child (or adult), or the community citizen looking for ways to live more sustainably.
We hope you will join us!  This year marks the 50th anniversary of Earth Day, so we are planning some extra special events for the occasion–stay tuned!  Sustainable Bainbridge is excited to be partnering with the Earth Day Network to share our list of events with the community.  By clicking on the link below you will be able to find activities and events right here on our island and around the globe, wherever you may find yourself this April 2020.
https://www.earthday.org/take-action-now/
*** If you would like to borrow a grabber for litter pick-up and keep it during the virus home-stay period, please contact [email protected]. ***
For more information, please email us at [email protected]
Earth Month Planning Partners
Sustainable Bainbridge would like to thank the following wonderful organizations for their phenomenal support and dedication in planning Earth Month 2020. Learn more about who they are, the amazing events they have planned, and how you can help through the links below.
Sustainable Bainbridge Partner Programs